OUR

 

STORY
ZiggyShade is a lightweight, simple and versatile UPF50+ beach tent, created to protect you and your family from the sun. ZiggyShade was developed by a couple of beach lovers from Bondi Beach, Sydney Australia. Designed for the famous Australian outdoor lifestyle, ZiggyShade is suitable for the beach, picnics in the park, camping, the sidelines at your kids' sports games, or the backyard. Superior to your standard beach umbrella or cabana style beach tent, ZiggyShade has many benefits.
What kind of sun protection does the ZiggyShade provide?
The ZiggyShade is UPF50+. To ensure our customers are protected from the harsh Australian sun, we've had the ZiggyShade tested by the Australian government's Radiation Protection and Nuclear Safety Agency, who verified the ZiggyShade material is UPF50+. We still recommend you wear sunscreen!
What is the size and weight of ZiggyShade?
ZiggyShade comes in two sizes, Standard and Family. The Standard size is 2m by 1.6m (unstretched) and is suitable for up to four people. The Family size is 2.4m by 2.2m (unstretched) and is suitable for up to six people. The ZiggyShade comes with a carry bag which, when the shade is packed inside, is 61cm long and about the size of a yoga mat. The ZiggyShade weighs 2-2.5kg.
How do I setup my ZiggyShade?
The ZiggyShade can be setup by one person in under five minutes. Check out our easy setup instructions and watch our instructional video here.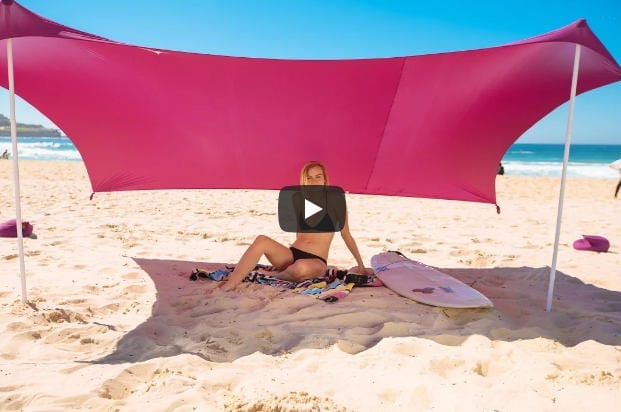 Where can I use my ZiggyShade?
ZiggyShade has been designed with the beach in mind, hence the sandbag anchors. However, you really can use the ZiggyShade anywhere. You can fill the sandbags with other materials, such as rocks or dirt – just be careful not to use anything sharp. We also provide four FREE pegs, which you can use to anchor the ZiggyShade in any soft surface. You can take your ZiggyShade when picnicking in the park, camping, set it up in the backyard, or the sidelines of your kids' sports games.
How should I care for my ZiggyShade?
You do not need to wash your ZiggyShade. When you are finished using it, simply give it a good shake, to get rid of any sand or dirt. However, if you'd like to wash it, you can do so by hand or in the washing machine. If washing your ZiggyShade, treat it like you would your swimming costume. That means a gentle cycle in a washing machine, water temperature no more than 30 degrees Celsius, no bleach, no ironing, and no tumble drying.
Can I purchase additional poles or pegs?
Yes! If you would like extra poles or pegs, just head to our 'Buy Now' page and select 'ZiggyShade Accessories'.
Follow ZiggyShade on social media!